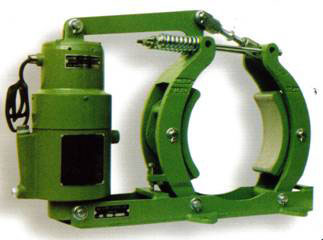 ADVANTAGES USING OUR ELECTRO-HYDRAULIC BRAKES
MOL electro-hydraulic brakes work, for lack of current, with springs action and weight of elevator movable part, which guarantees big safety in the braking.
The use of AC electromagnets produces serious disadvantages that make them inadequate for brakes functioning. The big intensity that they absorb after connection is always very high, so some special precautions must be taken in order to avoid tension falls, that difficult device working conditions.
These intensities also limit the number of procedures, due to the coil winding heating.
Violent shocks that are caused by the elevator structure at the end of each cycle, causing deformations at the magnetic circuit which disable them very quickly.
MOLSA bearing in mind these disadvantages has created a serial of brakes in which the electromagnet has been replaced by an electrohydraulic elevator to solve these problems.